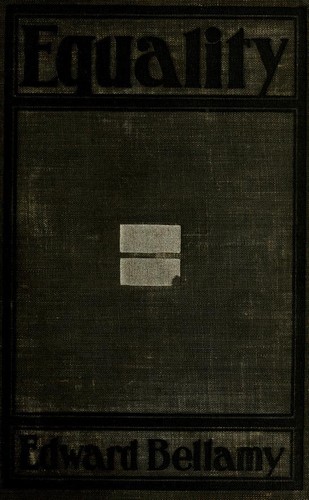 Description:
Source: http://gutenberg.org
Copyright: This work is in the public domain in the USA only.
Sequel to "Looking Backward."
Looking Backward was a small book, and I was not able to get into it all I wished to say on the subject. Since it was published what was left out of it has loomed up as so much more important than what it contained that I have been constrained to write another book. I have taken the date of Looking Backward, the year 2000, as that of Equality, and have utilized the framework of the former story as a starting point for this which I now offer. In order that those who have not read Looking Backward may be at no disadvantage, an outline of the essential features of that story is subjoined: In the year 1887 Julian West was a rich young man living in Boston. He was soon to be married to a young lady of wealthy family named Edith Bartlett, and meanwhile lived alone with his man-servant Sawyer in the family mansion. Being a sufferer from insomnia, he had caused a chamber to be built of stone beneath the foundation of the house, which he used for a sleeping room. When even the silence and seclusion of this retreat failed to bring slumber, he sometimes called in a professional mesmerizer to put him into a hypnotic sleep, from which Sawyer knew how to arouse him at a fixed time. This habit, as well as the existence of the underground chamber, were secrets known only to Sawyer and the hypnotist who rendered his services. On the night of May 30, 1887, West sent for the latter, and was put to sleep as usual. The hypnotist had previously informed his patron that he was intending to leave the city permanently the same evening, and referred him to other practitioners. That night the house of Julian West took fire and was wholly destroyed. Remains identified as those of Sawyer were found and, though no vestige of West appeared, it was assumed that he of course had also perished.