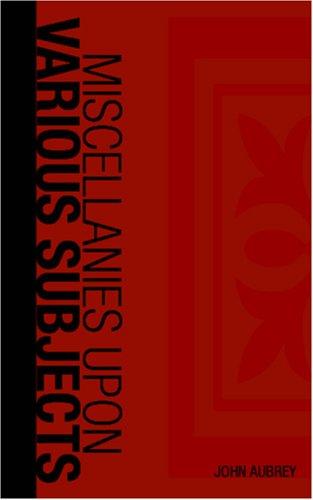 Miscellanies Upon Various Subjects
Description:
Source: http://gutenberg.org
Copyright: This work is in the public domain in the USA only.
Life of Aubrey -- Dedication to the first edition -- Day-fatality; or, some observations of days lucky and unlucky -- Day-fatality of Rome -- Of fatalities of families and places -- Ostenta; or, portents -- Omens -- Dreams -- Apparitions -- Voices -- Impulses -- Knockings -- Blows invisible -- Prophesies -- Miranda -- Magick -- Transportation by an invisible power -- Visions in a beryl or crystal -- Visions without a glass or crystal -- Converse with angels and spirits -- Corps-candles in Wales -- Oracles -- Ecstacy -- Glances of love and malice -- An accurate account of second-sighted men in Scotland -- Additaments of second-sight -- Farther additaments -- Appendix.
Many of the earliest books, particularly those dating back to the 1900s and before, are now extremely scarce and increasingly expensive. We are republishing these classic works in affordable, high quality, modern editions, using the original text and artwork.