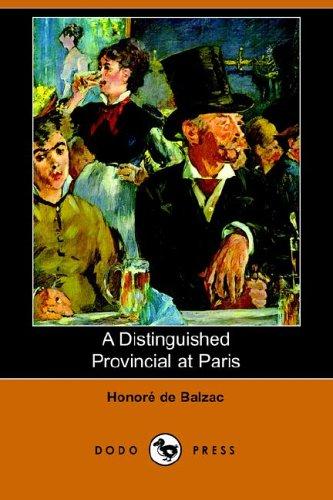 A Distinguished Provincial at Paris
Description:
Source: http://gutenberg.org
Copyright: This work is in the public domain in the USA only.
See also: #13159.
Mme. de Bargeton and Lucien de Rubempre had left Angouleme behind, and were traveling together upon the road to Paris. Not one of the party who made that journey alluded to it afterwards; but it may be believed that an infatuated youth who had looked forward to the delights of an elopement, must have found the continual presence of Gentil, the man-servant, and Albertine, the maid, not a little irksome on the way. Lucien, traveling post for the first time in his life, was horrified to see pretty nearly the whole sum on which he meant to live in Paris for a twelvemonth dropped along the road. Like other men who combine great intellectual powers with the charming simplicity of childhood, he openly expressed his surprise at the new and wonderful things which he saw, and thereby made a mistake. A man should study a woman very carefully before he allows her to see his thoughts and emotions as they arise in him. A woman, whose nature is large as her heart is tender, can smile upon childishness, and make allowances; but let her have ever so small a spice of vanity herself, and she cannot forgive childishness, or littleness, or vanity in her lover. Many a woman is so extravagant a worshiper that she must always see the god in her idol; but there are yet others who love a man for his sake and not for their own, and adore his failings with his greater qualities.